April 30, 2012
Easy Peasy Peanut Butter Drops
My house is always in need of things to snack on. I have 2 young children who expend energy faster than anything I've ever seen before in my life. I'm sure they could create an entire science course around the energy that comes from my 6 and 3 three old children.
I also happen to like something sweet and tasty every now and then myself.
Like every 30 minutes to be exact.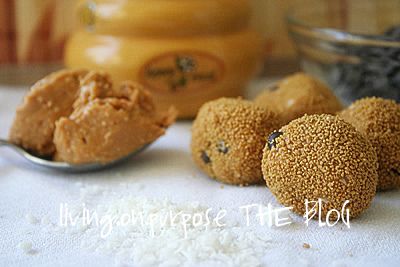 Although I am disciplined enough to not graze throughout the day since it can mess your up by not allowing you insulin and human growth hormone to do the best job they can do – when my window of opportunity is open for a yummy snack – I take it!
BUT…the snacks have to be healthy and provide some health benefits or I won't make them or have them around for us to eat. One thing I have enjoyed over the past few years of switching to real and traditional foods is that you can still create amazing dishes, desserts and beverages. Desserts being the operative word, since I tend to lean towards have a sweet tooth, not a salty one!
These peanut butter drops are a great little snack that provides a punch of protein and energy! They are quick and easy, but unfortunately they don't stick around very long, so you have to make a lot of you want them around for more than a day.
With ingredients like natural, organic, freshly ground peanut butter, RAW shredded and unsweetened coconut, really RAW honey, some super healthy mini-chocolate chips and a tad bit of sucanat (an unrefined sugar) – you have yourself a healthy treat you won't have a problem giving your family to snack on.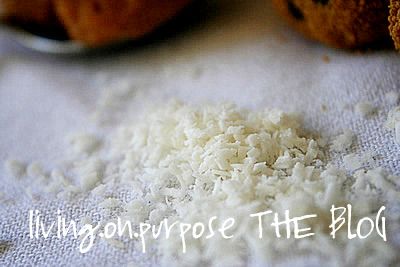 As always, using the healthiest ingredients is the best. The point is to eat healthy! We shouldn't be filling our bodies with foods it can't even recognize and it can't even utilize. I want the food we eat to be nutritional building blocks for our health. This means I always use organic when it's available. I grind my peanut butter at the store, so it's fresh and has no added ingredients. You can also make your own at home in your food processor. I'm fortunate enough to have wonderful health food stores that carry organic, unsweetened shredded coconut. I do think RAW is the best, but typically you have to order that online.
I use really RAW honey that I can get at Vitamin Cottage. I choose 'really RAW' because it truly is the rawest you get. It is unheated, unfiltered and solid in it's natural state. You may find some RAW honeys that are liquid and in my opinion – they are not truly RAW. If you cannot find really RAW, then by all means get the RAW that is liquid – but it's best to stay away from cheap honey (aka, those cute little honey bears). Honey is packed with nutrients, minerals and natural energy – don't waste money on a product that has removed all the benefits of this amazing food.
As for my chocolate chips, I use a brand called Enjoy Life and they are the ONLY brand of chocolate chips that I have found in the stores that do not contain soy. I DO NOT LIKE NOR ENDORSE SOY! These amazing chips are soy, dairy, nut and gluten free and are made in a dedicated nut and gluten free facility. They are also vegan and kosher. You pay a bit more for them, but I think it's worth it!
Last, I use Sucanat to roll the peanut butter drop and it gives it a soft sweet finish to it. Sucanat is an unrefined sugar, which is awesome and is wonderful addition to a healthy foodie's kitchen!

Peanut Butter Drops
(Packed with Protein and Energy)
Here's What You'll Need:

- 1/2 cup natural peanut butter

- 1/2 cup really raw honey

- 1/2-1 cup unsweetened, finely shredded coconut

- 1/4 –1/3 cup mini dark chocolate chips (soy free)

- Sucanat (unrefined sugar) for rolling the drops
Here's What You'll Do:
- In a medium size bowl, mix the peanut butter and honey until combined thoroughly.
- Add the chocolate chips. You can add more or less according to your taste (I always add the larger amount).
- Add the coconut in 1/4 cup amounts until the consistency reaches a thick, yet semi-sticky state.
- You don't want it so sticky that you can't roll it, but you don't want it so dry that it wont hold together. Find the happy medium.
- Once you are able to roll them and they still have some stickiness to them, roll into balls and then roll in the sucanat.
- Place on wax or parchment paper on a baking sheet or plate.
- Refrigerate for a while so they can harden up a bit, transfer to a glass jar and keep in the fridge.
Go ahead and give them a try. You won't be sorry. If you're not the hugest fan of coconut, I can tell you that I don't really taste the coconut. The peanut butter is mostly what I taste, with the sweetness of the honey and sucanat. Oh and to get a wonderful piece of dark chocolate goodness in a bite makes the experience all the more better!

Don't forget to follow us on TWITTER and FACEBOOK!
If you want to be notified via email when we publish new post, you can sign up for free updates using the box below!