June 27, 2012
Raw Cream Filled Cookies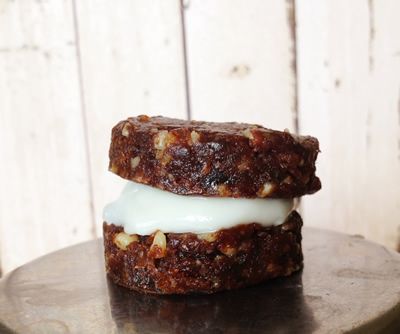 Eating healthy doesn't have to be boring.
Although I sure do enjoy an amazing chocolate chip cookies, they aren't always the healthiest things to have sitting around all the time – even if I use organic, healthy ingredients. Except maybe this deep dish goodness.
Enter in raw cookies. They're along the lines of Larabars, but tastier and a whole lot cheaper. I make them all the time.
Making cookies like this are simple and can be make quickly in the food processor. I always have a couple of batches of these in the fridge, especially since my kids like to eat every 30 minutes. They're growing, so they eat all the time. These are a great alternative to unhealthy snacking options (chips, crackers, fruit snacks, cookies). They are high in protein and healthy fats, sweetness from God-made foods and they are definitely filling, so you can't over indulge on these treats.
These amazing treats can use any of the following: raw nuts, dates, raisins, dried fruit, chocolate chips, cocoa powder, peanut butter, almond butter, cashew butter, coconut, coconut oil, honey, molasses, maple syrup – the possibilities are endless.
For this particular recipe I used raw almonds, raw walnuts, organic dates, mini-chocolate chips (soy free), home made vanilla, celtic sea salt, raw organic cocoa powder and raw coconut butter.
I got the idea for the 'Oreo' looking display from here, but you could use any variation of nuts/fruits and other add-ins! Like I said, the possibilities are endless.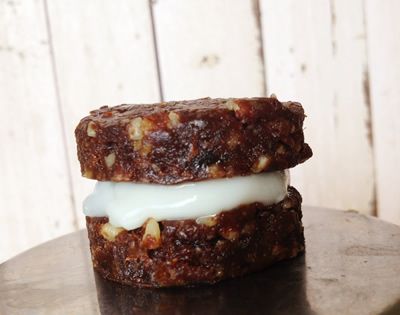 Raw Cream Filled Cookies
Here's what you'll need:

- 1/2 cup raw almonds

- 1/2 cup walnuts

- 1 & 1/3 cup pitted dates (I get mine from Vitamin Cottage…organic, fresh and in bulk)

- 1 teaspoons vanilla extract

- 1/8 teaspoons plus 1/16 tsp celtic sea salt

- 3 1/2 tablespoons raw and organic cocoa powder

- 1 teaspoon raw honey

- 1 teaspoon raw and organic, extra-virgin coconut oil

- raw coconut butter (or you could even try peanut butter, almond butter or cashew butter)

Here's what you do:

1. Process the nuts in the food processor until it reaches a crumb texture. If you process too much, you'll end up with a nut butter.

2. Add the pitted dates (removing the pits is quick and easy) and process until the dates have been chopped up really well.

3. Add the remaining ingredients and pulse/process until mixed well. The dough needs to start clumping together a little bit. If it's too crumbly, your cookies won't stay together.

4. Remove from the processor and form into a ball.

5. Using a cutting board and parchment paper, roll out the dough and use a small round cookie cutter to cut out individual cookies.

6. By this time the dough will be getting soft, so stick in the fridge for a bit to chill or place in the freezer for about 5 minutes, remove and put a dollop of raw coconut butter on one cookie, then place another cookie on top, press down a bit and Voila!.

7. Unless you are eating immediately, these need to be chilled in the fridge so the raw coconut butter doesn't melt.
Remember, these are filling AS WELL AS healthy! The raw foods used are wonderful nutrition for you body and the healthy fats in the nuts and the raw coconut butter and raw coconut oil are amazing additions to your food!
How can you resist these quick and easy treats that have the added bonus of being healthy for you?
I know. You can't.

Don't forget to follow us on TWITTER and FACEBOOK!
If you want to be notified via email when we publish new post, you can sign up for free updates using the box below!